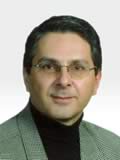 Amir M. Amirebrahimi was born on December 09, 1958 in the city of Tabriz, west of Iran. His family moved to Tehran soon after he was born, where he completed his primary and high school education. After two years at the Tehran Polytechnic, Amir moved to United States in 1978 to continue his education and receive his Bachelors of Science in Construction Engineering from the Iowa State University in 1982.
Amir then continued to improve his academic credentials by receiving Masters and Ph.D. degrees in Structural Engineering at the University of California, Davis, before returning to Iran in 1990. Upon his return to Iran, Amir joined the Engineering Faculty of the University of Tehran as an Assistant Professor of Civil Engineering. At the same time, he entered Tehran Urban and Suburban Railway Company (Metro) as the deputy director of the Technical Research Center. After two years of work in Metro, he left Metro to accept a position as the Technical Manager of an Industrial Complex near Tehran.
While teaching at the university, Amir became acquainted with Tablieh Construction Company through a colleague and started providing project controls services to Tablieh as a consultant in 1994. Mutual interests between Amir and Tablieh management rose quickly and soon he joined Tablieh. Starting with the position of project controls manager for Tajan Dam and MIS Projects, he moved up quickly to the director and vice president positions.
Amir left his university career in 2004 to dedicate his time fully to Tablieh. During this period,he was in charge of Tablieh industrial projects, completing two projects valued close to 32 million US Dollars, with satisfied international clients such as the Joint Venture of Toyo, IDRO, JGC, Daelim (TIJD) as well as Daelim Industrial Company.
Finally, with the unanimous decision of the Tablieh board of directors, he was chosen as the new President and CEO of the company as of May 13th, 2007 .
Dr.Amirebrahimi has published numerous papers in the fields of structural engineering and construction management. He is currently a member of Technical Board of Iranian Concrete Code (ABA) in the Management and Planning Organization, a member of Iranian Concrete Institute, as well as the Iranian Chapter of ACI. He is also a member of the scientific council of the Iranian Project Management Quarterly Journal.